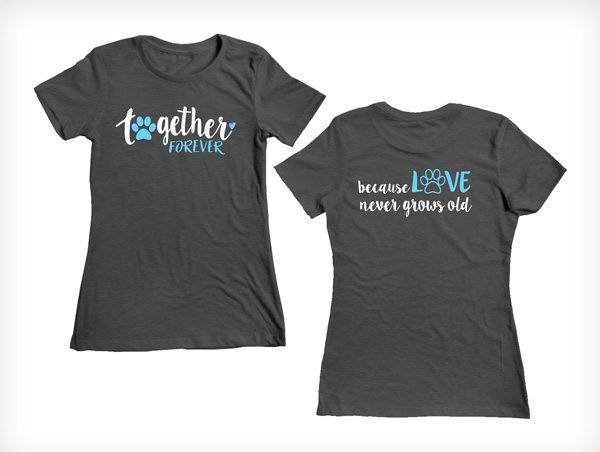 Click Here To Order Your Own: TOGETHER FOREVER SHIRT
The Grey Muzzle Organization improves the lives of at-risk senior dogs by providing funding and resources to animal shelters, rescue organizations, sanctuaries, and other non-profit groups nationwide.  They fund programs such as hospice care, senior dog adoption, medical screening, and other special programs to help old dogs at animal welfare organizations across the country.   Grey Muzzle embraces the sentiment that senior dogs deserve to live out their golden years in comfort with humans who care.  They walk the walk when it comes to being Together Forever with our senior companions, because they know LOVE Never Grows Old.  To learn more about The Grey Muzzle Organization, visit: www.greymuzzle.org
Camp Dogwood, as part of its mission has always been committed to the community and helping to raise funds for various non-profit dog related organizations.  In this spirit, 10% of the proceeds raised from this shirt will be donated to The Grey Muzzle Organization – a group we have supported before because we love the work they do.
Camp Dogwood…where you and your dog stay and play is an overnight vacation for you and your furry friend.  We offer sessions Spring, Fall, and Winter in Lake Delton, Wisconsin.  Come strengthen your bond with your dog and experience the ultimate dog-friendly vacation as you enjoy activities such as nosework, agility, hiking, campfires, barn hunt, dog parkour, arts & crafts, dog treat making, lure coursing, sheep herding, educational sessions on your dog's health & well-being, and more.
Our next camp is our Spring Camp, June 1 – 4, 2017.  We hope to see you and your dog(s) there!