Dave Eisendrath and Alysa Slay, long- time friends, founded Camp Dogwood in 2000 while hanging out with their dogs in a neighborhood dog park of Chicago. The daily dog park ritual was part of their regular routine, however they were finding it increasingly difficult to find large, open dog-friendly spaces to play with their dogs Bitsy, Muddy, and Forrest. The "official" dog beach in Chicago had not been established, so every venture to the beach brought the threat of a possible ticket. Dog friendly parks were far and few between, and increasingly more tickets were being issued for having dogs off-leash in the city parks.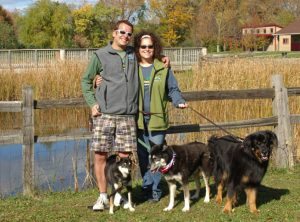 One day, a stream of "what-if" scenarios was the topic of conversation, and the magical words were said aloud, "what-if there was a place that was like a kids overnight camp but the kids were dogs and came with their people." Not a bad idea, they thought. Both had years of camping experience, were outdoor enthusiasts, and had gone on numerous extended road trips together, many with their dog. They both were passionate about spending time with their dogs. Alysa had decades of overnight children's camp experience, over the years going through the ranks from camper to counselor to Unit Leader to serving as a camp consultant. Dave had an established career as a graphic designer with expertise in print layouts, logo design, and marketing. The original division of labor was quite simple back then, Alysa would focus on the camp program development and Dave would focus on marketing camp. These established roles persist to this day.
Not quite ready to just take the plunge, Dave and Alysa decided to do a little research and visit a dog camp that was a 20 hour drive from Chicago. On the 20 hour drive home back to Chicago, Camp Dogwood was fully born. Once home, Dave and Alysa literally hit the pavement. They went to as many pet shops and boutiques, vet offices, groomers, and training classes they could to gauge public interest and research the Who's Who in the Chicago dog world. They introduced themselves and the concept of Camp Dogwood. Many responded with excitement, many with looks of skepticism. More than once they heard the idea was "crazy." Ultimately, the incredibly strong dog community of Chicago welcomed Camp Dogwood. Staff members signed on to instruct, campers began to register, and the media took note.
Camp Dogwood's inaugural camp in 2001 was featured in the Chicago Tribune that year, and the sentiments from the article still ring true:
"Anything you can do with your dog that promotes a closer bond is good… This place has been Nirvana for dogs, and the staff is great… They are interested in your relationship with your dog, not what you achieve… Dog camp feels like a family reunion with cool relatives you never knew you had… Here you have a community of dogs and their people."
Camp Dogwood is devoted to enhancing one's knowledge about their dog, the bond between dogs and their human, and the role of dogs in the community.
The Camp Dogwood Mission is Dedicated to:
The Dog
Camp Dogwood is committed to providing educational programs regarding the health, behavior and emotions of our canine friends. Such programs will be offered within a framework that respects the diverse nature of available canine related information and positive training methods.
The Bond
Camp Dogwood is committed to providing a range of activities that balance opportunities for developing the dog's potential, as well as, enhancing the relationship between human and dog companions. Relaxation and recreation for both humans and dogs are at the root of activities.
The Community
Camp Dogwood is committed to promoting the positive role that dogs play in our society by supporting programs that improve the quality of canine life within our communities. Additionally, fundraising events such as our Good Bones program, The Dogwood Yard Sale and the Scrub-'Em-Yourself-Dog-Wash generate proceeds, which are returned to the dog community by Camp Dogwood.