[vc_row no_margin="true" padding_top="0px" padding_bottom="0px" border="none"][vc_column width="1/1″]
Lodging Rates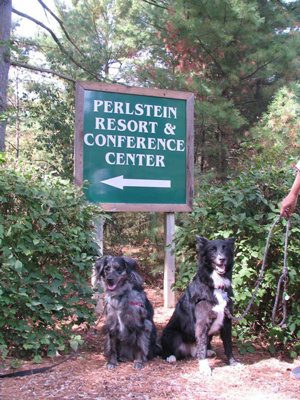 Spring and Fall Camp are the mainstay of Camp Dogwood and the sessions that are most reminiscent of an overnight camp experience. A typical day of Spring & Fall Camp offers anywhere from 25-30 "dogcentric" activities from which to choose. The training sessions emphasize positive reinforcement and fun for you and your dog(s). Lectures and demonstrations always center on enriching the time we have with our four-legged friends. You decide how much or how little to do each day. Spring and Fall Camp sessions are designed to be fun, relaxing, educational, and a time for making memories with your dog and camp friends. We make one guarantee after Spring & Fall Camp, a tired dog…and person.
See our Payment and Cancellation policies for additional information.
Winter Camp 2014 Dogwood (May 30-June 2, 2014)
Winter Camp Registration Deadline: January 10, 2014.
Hosted in Ingleside, Illinois.
Whole Dog Day Program (Saturday, May 3, 2014)
A single day event, Hosted in Ingleside, Illinois.
Senior Dog Day Program (Sunday, May 4, 2014)
A single day event, Hosted in Ingleside, Illinois.
Spring Camp Dogwood (May 30-June 2, 2014)
Spring Camp Registration Deadline: May 15, 2014.
Hosted in Lake Delton, Wisconsin.
Fall Camp Dogwood (October 10-13, 2014)
Fall Camp Registration Deadline: September 24, 2014.
Hosted in Lake Delton, Wisconsin.
Camp Fees
All overnight camp packages include your selected lodging (dogs sleep with you), meals & snacks (dogs bring own chow!), and all standard programming. Rates are listed PER HUMAN CAMPER with up to two dogs, except for our "couple with 1 dog" rates). If you have more than 2 dogs attending with you (per individual) the "additional dog fee" is $50.
Space will be held with either a full-payment of your fee, or a minimum deposit of $200 per human for Spring or Fall sessions. Balances become due PRIOR to attending the session. No refund of deposit is available. For a Daypass to any session, or Winter Camp programs, please pay-in-full with your submitted registration.
Our Rate Chart is shown below: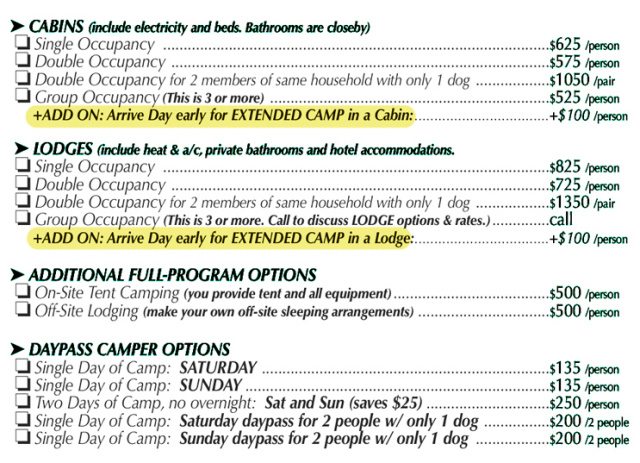 SINGLE, DOUBLE, & SHARED ROOMING OPTIONS 
Our different lodging accommodations are available in different ways, depending on the number of people per room: "Single Occupancy" provides one person a private room or cabin. "Double Occupancy" provides one private room or cabin for two people. "Group Housing" is intended for three or more people.
Double Occupancy and Shared Housing accommodations are designed to house multiple campers. We cannot provide roommate-pairing services, but recommend joining our FACEBOOK group if you're in need of suitable possible roomates
[/vc_column][/vc_row][vc_row][vc_column width="1/2″]
[/vc_column][vc_column width="1/2″]
[/vc_column][/vc_row]